APD HVPRO 20 BRUSHLESS ESC
85V / 300 Amps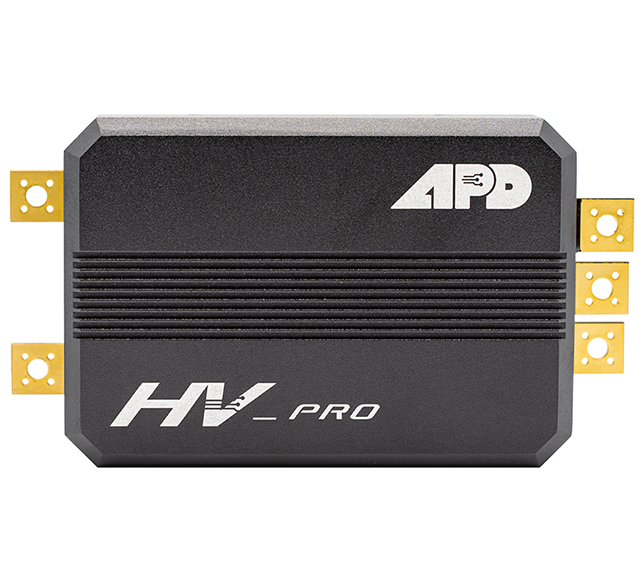 MODES
Normal mode: Incremental + Linear power ramp control
Used with:
Fixed wing aircraft
Watercraft
Paragliders
Multi-Rotor: Instantaneous Input = Output Step Response
Used with:
Drones
Flying Cars
Heli: Soft-start for drive-train protection
Used with:       Helicopters
Traction:  Same as normal except for active torque control, which applies a motor phase current limit that ramps proportionally with higher motor duty-cycles
Used with:       Electric bikes
Reverse:  Normal mode with reverse capabilities
Used with:       Watercraft requiring reverse
HIGHEST QUALITY AND EFFICIENCY
Designed and manufactured in Australia using the highest quality components.  APD uses aerospace grade ceramic capacitors for the lowest possible ESR and maximum reliability.
PWM-frequency dithering to avoid PWM-commutation synchronisation.
Adaptive motor timing advance and proprietary developed Active Phase-Current Demagnetisation (APCD). APCD along with synchronous rectification ensures maximum ESC efficiency.
Peak power ratings defined at 100% throttle, where bus current = phase current. Requires proper sizing of motor to load. 
(*) Continuous amps defined as amperage sustainable for 180 seconds with adequate cooling to keep ESC at or below 115C
(**) Burst amps defined as amperage sustainable without damage to controller for a period of 5 (five) seconds.  Burst should not be encountered again until ESC has returned to normal temperature
(***) Weight refers solely to the circuit board and enclosure, if any.  Weight measured without any wires or connectors.
Specifications subject to change without notice.